Udaipur Sightseeing Tour Packages
Plan your one day or two day trip with Anant Tours to visit the amazing and historical places of City of Lakes, Udaipur. Drive through the best destinations of Udaipur by checking our best affordable Udaipur Sightseeing tour Packages.
Choose a convenient and comfortable Udaipur Sightseeing Taxi for your hassle free trip like Sedan or SUV Car. Anant tours provides best taxi service in Udaipur.
With our Udaipur sightseeing tour packages you can explore Udaipur sites by luxrious taxi in 1 day with day trips to Kumbhalgarh Chittorgarh Nathdwara etc. Plan yout tour by taxi for udaipur sightseeing places and nearby places of Udaipur.
Full Day Udaipur Local Sightseeing tour packages includes City Palace, Lake Pichola, Vintage Car Collection, Saheliyo ki Bari, Fateh Sagar Lake, Jagdish Temple, Dudh Talai and Bagore ki Haweli, Sukhadia Circle and Mansoon Palace (Sajjan Garh). The Duration of the trip will be approx 8-9 Hrs.
So if you are planning a Udaipur Sightseeing tour then take this Udaipur Sightseeing tour package in affordable rates offered by Anant Tours. We are here to make your trip hassle free and life time memorable.
Udaipur Sightseeing Tour
Places Covered: City Palace, Jagdish Temple, Lake Pichola, Fateh Sagar Lake, Dudh Talai, Saheliyon ki Bari, Bagore ki Haveli, Sukhadiya Circle, Monsoon palace (Sajjan Garh).
Duration: Full Day (8-9 hrs. approx)
City Palace
CITY PALACE
The grand City Palace, towering over the Pichola Lake, is one of the largest palace complex in Rajasthan. The splendid palace, originally built by Maharana Uday Singh II, rises 30 meters above Lake Pichola and extends up to 244 meters. The City Palace has number of small and big palaces, museums and the gardens. There are many popular palaces inside the City Palace Complex.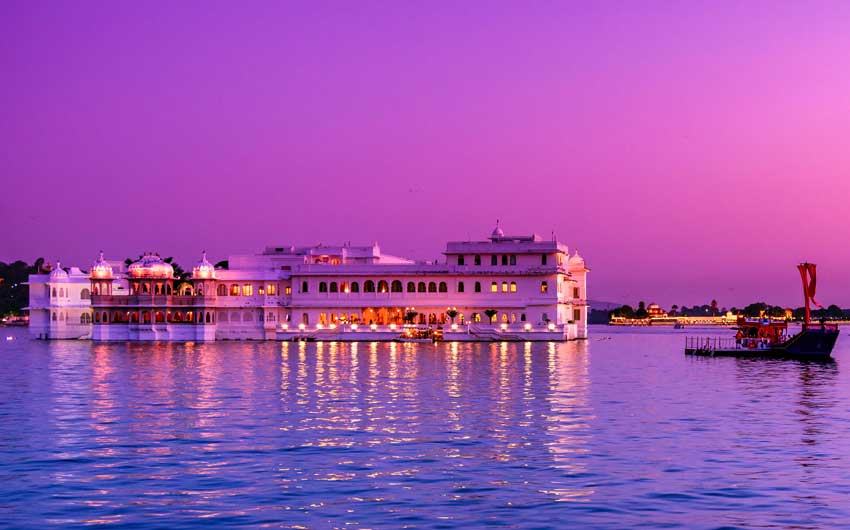 Lake Pichola
LAKE PICHOLA
An artificial fresh water lake, created in the year 1362 AD, named after the nearby Picholi village. The lake's surroundings and the several islands within the lake have been developed over the centuries, with palaces, marble temples, family mansions and bathing ghats. The famous Lake Palace (now converted into a heritage hotel) is located in the middle of the lake.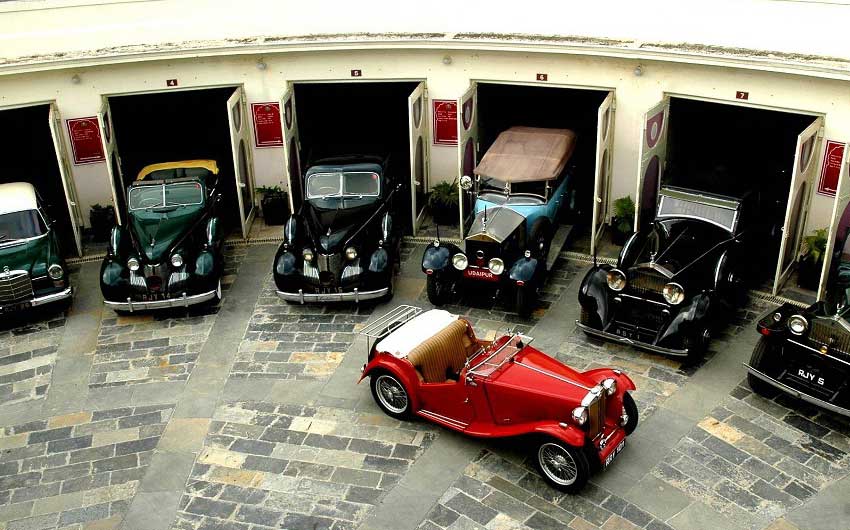 Vintage Car Collection
VINTAGE CAR COLLECTION
A unique private collection of vintage cars of the House of Mewar – the world's longest serving dynasty. The Vintage & Classic Car Collection is a landmark in the city of Udaipur ever since it was inaugurated in February 2000. The grand limousines and cars showcased in the Collection.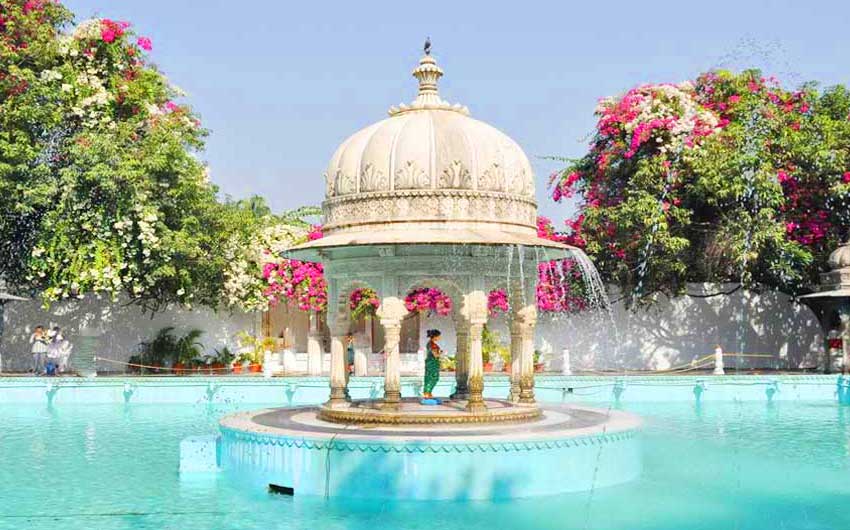 Saheliyon Ki Bari
SAHELIYON KI BARI
Built by Maharana Bhopal Singh. Saheliyon ki Bari means Garden of the Maids. This garden area lies in northern part of the city and has fountains and kiosks, a lotus pool and marble elephants. Each water channel has its distinct sound and the mingling of these sounds complement the ambience of the place.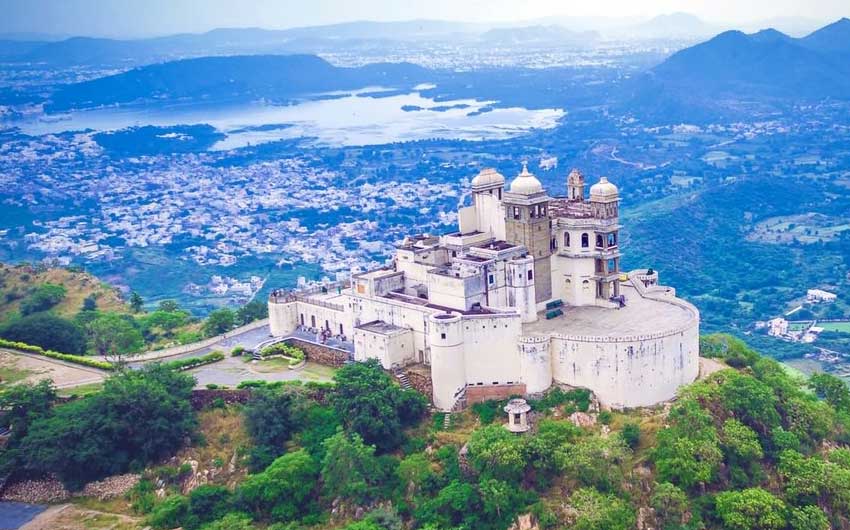 Monsoon Palace
Monsoon Palace
The Sajjangarh Palace is also popularly known as the Monsoon Palace. It is one of the most renowned tourist places in Udaipur that is nestled in the Bansdara Mountain that is located at an elevation of around 940 metres above sea level. This massive mountain overlooks the renowned Pichola Lake. The palace is also known as the Monsoon Palace because during the reign of Mewar Kings, the palace was used to witness the progress of the clouds in the monsoons. It was also used by the Mewar Kings as their summer retreat.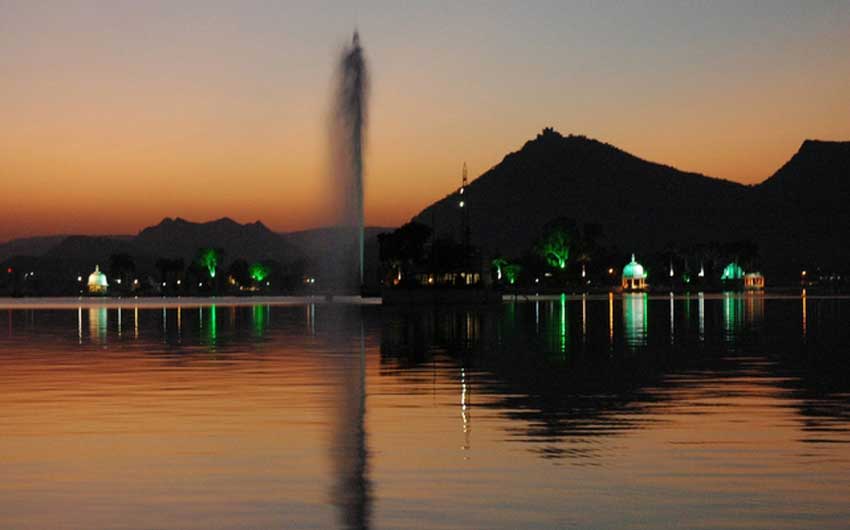 Fateh Sagar Lake
Fateh Sagar Lake
Fateh Sagar Lake is situated in the city of Udaipur in the Indian state of Rajasthan. It is an artificial lake named after Maharana Fateh Singh of Udaipur and Mewar, constructed north-west of Udaipur, to the north of Lake Pichola in the 1680s. It is one of the four lakes of the Udaipur city; the other three being: the Lake Pichola (within the Udaipur town), Udai Sagar Lake, 13 kilometres (8.1 mi) to the east of Udaipur, and Dhebar Lake or Jaisamand Lake, 52 km (32 mi) south east of Udaipur.
Day Tours In Udaipur
If you are planning to visit the City of Lakes, Udaipur for One Day then we are here to plan your day tour with private cabs in Udaipur, from which you can visit the top and amazing places in Udaipur.
Explore Day tour in Udaipur with Anant Tours because we provide best taxi service in Udaipur for local sightseeing and nearby places in affordable rates. Plan your tour and Hire a Taxi in Udaipur from Anant Tours with best packages and hassle free trip.